Herald Herkimer Diamond Charm - March 2021
One word to describe the Herald Herkimer charm- Breathtaking. This charm transforms any chain into a show stopping necklace and elevates hoops instantly. Waring, after you get one you'll be wanting two more to make the complete set.
Available in 14K Gold Filled and Sterling Silver. Herkimer diamonds are raw, unfinished, natural stone. Color, size, and texture may vary. All diamonds are sourced in the U.S. and conflict free!
Because we celebrate making our jewelry by hand here in Texas, some pieces may vary and have their own unique signature!
Customer Reviews
03/22/2021
Sheila D.

United States
Herkimer Herald charm of the month sub
The stone is gorgeous! Absolutely gorgeous. Now I'm obsessed with herkimer diamonds! I didn't know I was going to get this with my charm of the month subscription and I'm so glad I got one in silver and gold!! Absolutely worth the $30 for the surprise. It's like being a kid on Christmas morning when you sign up for Sarah Briggs's subscription pieces.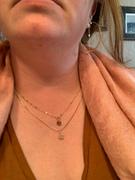 03/22/2021
Sheila D.

United States
The herald charm of the month is gorgeous
This subscription cost $30! Retailing for $54! It's such a gorgeous stone! Absolutely worth the cost and more. The excitement of waiting to see what you ordered is like being a kid on Christmas Day! To get something like this at such a value is a good decision you won't regret. Sign up now!