You asked, we delivered! After major success with our Hoop of the Month box we are now delivering you a hot, new necklace chain every month for an insanely low price. Just pick your metal (Gold or Silver) and SB will handle the rest. Treat yo self to a new surprise every month, we promise you will love it!
The nitty gritty: 
- Subscriptions are a monthly, recurring fee that will be charged on the same date every month (date of your original order) 
- Must place order by the last day of the month to get next months subscription
- All orders will start shipping the 10th of the next month (ex. If you purchase June 4th your order will not start shipping until July 10th) 
- You can skip, modify or cancel at anytime in your account under the 'subscriptions' tab
- Any and all changes (like swapping subscription or switching metal color) must be done BEFORE your charge date to be counted towards that subscription

Subscription pieces will be available for purchase at full retail price after being shipped to subscribers. But why wait and pay full retail when you can have them first and discounted!?

**Any other items purchased in the same order as your subscription will ship on the 10th of the following month with the subscription product. Discount codes, Promotions, and Gifts with Purchase do not apply to this product. Subscription purchases are final sale. No refunds or exchanges as these pieces are already highly discounted.**
Customer Reviews
09/04/2020
Kristin K.
United States
So Fun!!
This is my favorite time of the month! Sarah Briggs happy mail is the best. The chain of the month subscription is always a surprise that never disappoints!
09/04/2020
Selena C.
United States
This is the one thing your pandemic life absolutely needs!
Like all Sarah Briggs jewelry the chain of the month releases are high-quality, creatively designed, and just beautiful! But the chain of the mo th subscription is also hands down one of the best jewelry deals I've ever seen! Honestly, getting a chain at this quality level at wholesale price *every month* is an insane win! Makes my pandemic life so much happier to have this little gift to myself to look forward too!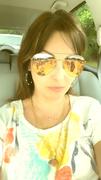 09/04/2020
Nicole R.
United States
Chain of the Month is a Must Have!
After three months of Chain of the Month, I went from novice necklace stacker to expert. Each chain is so unique but pairs nicely with other collections. It's also inspired me to get into charms. I look forward to this every month!
see what other shoppers snagged with this item!