The most versatile hoop ever made. Say hello to the Sparrow Hoop. Finer metals have never been more affordable with the hypoallergenic, medial grade hoops. Great for all ages & makes a perfect gift.
Sport it as a lobe hugger, in your cartilage, your nose. We've got you covered.
Available in Large (10 mm), Medium (8 mm), and Small (6 mm) in 14K Gold Fill, Sterling Silver, and Rose Gold in 22 gauge. Sold as singles or as a pair.
Customer Reviews
The perfect wee hoop to live in!
I have about a half dozen of these perfect little hoops that I just live in. They are weightless, so comfortable I don't feel them ever - even in my nostril, cartilage and lobes - they never tarnish, they look just as perfect and shiny as the day I got them many many months ago. I love that I never have to worry about them and they are such high quality they never irritate my skin. Highly recommended!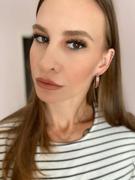 A staple piece!
Everyone needs a sparrow (or five) in their collection! Such a dainty, classic piece for your lobes, cartilage, or even your nose. LOVE!
My every day go-to!
These earrings are my favorite forever piece. I love the versatility because they are seamless and gold filled i work out in them, sleep in them, shower in them. I got the small and I wear them in my first hole and they hug perfectly. And they pair perfectly with any other earrings as just the tiniest touch of sparkle. Highly recommend!
Timeless, Simple Elegance!
I love my Sparrows! I have two pairs of small and one medium size in gold. I wear my smalls in my upper two piercings when I don't want to overwhelm the other SB hoops I'm wearing! They're gorgeous and add that little extra touch to my ears. The quality is great, I've pretty much worn them non-stop since March 2020 and there's no tarnishing or irritation to my ears (which can be sensitive sometimes). The price is a steal for the quality and look that you're getting, I've bought more expensive small hoops elsewhere and been disappointed in them but not these Sparrows! I would highly highly recommend these for people who want just an extra touch of elegance in their life.
Jewelry staple
The sparrow is an unexpected favorite of mine that is a staple in my Sarah Briggs jewelry collection. It's perfect for sensitive ears too!
see what other shoppers snagged with this item!