Charmaine Ear Cuff - April 2020
Have you every seen a cooler ear cuff? We didn't think so. Your ear stack game just got a whole lot edgier.
Available in 14K Gold Fill and Sterling Silver. Sold individually. 
Because we celebrate making our jewelry by hand here in Texas, some pieces may vary and have their own unique signature!
Customer Reviews
02/13/2021
Justine B.

United States
My FAVORITE cuff, by far!!!
This is, hands down, my absolute favorite ear cuff! I don't know that anything will ever surpass this as my #1, but I'm sure Sarah Briggs will give it a good try! As far as the discomfort referenced by the other reviews... I just pried it apart, just a TINY bit, and I can now wear it all day with no discomfort at all!
10/03/2020
Kaitlyn

United States
This piece makes a statement
I love the Charmaine ear cuff and I get compliments on it every time I wear it! I like to stack it with something simple to really up my ear game. Like the previous review stated, it is a little bit harder to wear than some of the other ear cuffs for long periods of time, but I think it's worth it when I want my cuff to make a statement.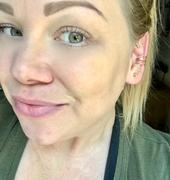 09/05/2020
Jennifer H.

United States
Pretty but....
I love the design of this earcuff! Its unique and large and gorgeous! Unfortunately it hurts to wear it for a long time. The side that has the pointed pieces is very uncomfortable. When I tried to fit it to my ear size it would fall off. I still wear it some, but not for long term. Bonus though- you can work out with it on and it doesn't tarnish!!