JOS Charm - September 2021
The Jos Charm features Blue Goldstone that sparkles like stars in the night sky, just as breathtaking and raw. You will love wearing this charm to add the perfect amount of twinkle to every look. Not to mention Blue Goldstone is the stone of confidence and ambition. Wear the Jos charm and feel the motivation and drive it brings. 
Approx. 3/4" drop
Available in 14k Gold Filled or Sterling Silver. 
Because we celebrate making our jewelry by hand here in Texas, some pieces may vary and have their own unique signature!
Customer Reviews
09/28/2021
Marisol

United States
Sparkles like a starry night
I am absolutely floored at this gorgeous charm. The shine and sparkle is beyond gorgeous. It is one of the most affordable pieces in the Jos collection, and a perfect stocking stuffer or small gift. The stone catches the light from every angle and looks so beautiful. I plan to purchase more as gifts. Stunning charm and wonderful purchase.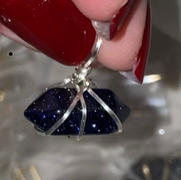 09/26/2021
Marisol

United States
Gorgeous Sparkle
This is one of those times when the pictures online just can not fully capture the beauty of this charm. The sparkles is incredible on another level! This is a gorgeous little bauble to wear and gift.